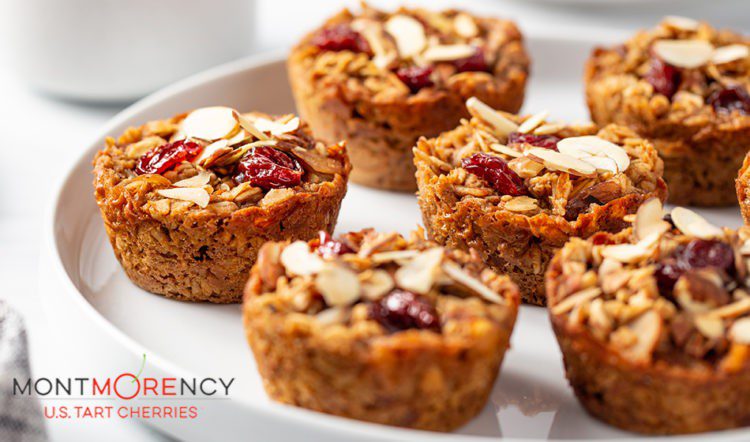 AW promotion: Get the health benefits from these ruby red superfruits by making your own granola cups Montmorency US tart cherries have a unique nutrient profile. Backed by years of scientific research, these ruby red superfruits are praised for their versatility, nutrient density and health benefits. Many studies have explored the potential impact of Montmorency tart cherries on exercise recovery, arthritis and gout, heart health and sleep. READ MORE: 
Tart cherry juice found to help improve endurance
Here, Alexis Joseph of
Hummusapien.com
shares a tart cherry almond baked granola cups recipe. Total time: 33 minutes
Prep: 5 minutes
Cook: 28 minutes
Makes: 10 cups
Level: Beginner
Ingredients
1 1/2 cups unsweetened almond milk (or milk of choice)
1/2 cup unsweetened applesauce (I used a 4oz container)
2 tbsp butter (or non-dairy buttery spread), melted and cooled
1 tsp pure almond extract
2 1/2 cups old-fashioned oats
1/4 cup coconut sugar
2 tsp baking powder
1 tsp cinnamon
1/2 tsp kosher salt
1/2 cup dried Montmorency tart cherries
1/3 cup blanched sliced almonds, plus more for topping
Directions
Preheat oven to 190°C/ 375F. Spray a muffin tin with cooking spray or line with silicone muffin liners.
In a large bowl, whisk together almond milk, applesauce, melted butter, and almond extract.
Add oats, coconut sugar, baking powder, cinnamon, salt, tart cherries, and almonds. Stir until just combined.
Spoon mixture into muffin cups, filling to the top. Sprinkle slivered almonds on top of each muffin.
Bake for 28-30 minutes, or until a fork comes out clean. Store cooled oatmeal cups in an air-tight container in the refrigerator. They freeze well!
FIND OUT MORE AT [url=https://bit.ly/choosecherriesAW]CHOOSECHERRIES.CO.UK[/url]
»
 For more on the latest athletics news, athletics events coverage and athletics updates, check out the [url=https://athleticsweekly.com/]AW homepage[/url] and our social media channels on [url=https://twitter.com/AthleticsWeekly]Twitter[/url], [url=https://www.facebook.com/athleticsweekly/]Facebook[/url] and [url=https://www.instagram.com/athletics.weekly/]Instagram[/url] The post [url=https://athleticsweekly.com/performance/recipe-tart-cherry-almond-baked-granola-cups-1039936797/]Recipe: Tart cherry almond baked granola cups[/url] appeared first on [url=https://athleticsweekly.com]AW[/url].