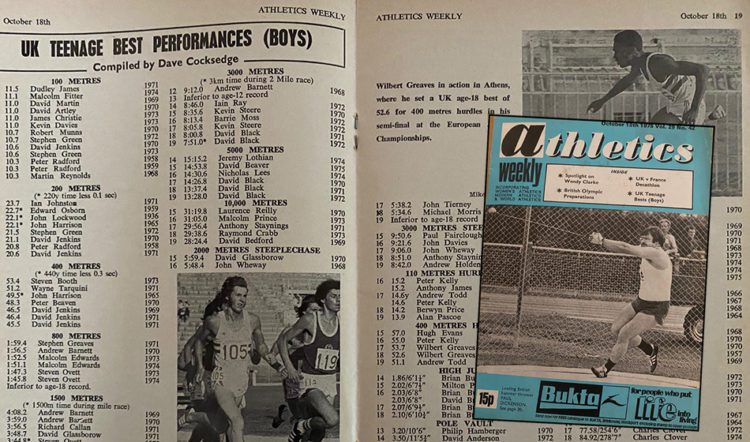 In the magazine's 75th year, Steve Smythe looks back on past editions of Athletics Weekly and this time it's the issue of October 18, 1975 It was a quiet year in terms of major championships, with the European Cup being the biggest international event.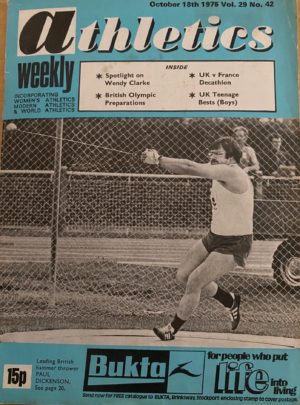 The issue we look at is October 18 and the cover star was Paul Dickenson, who is now probably better known for his BBC commentary career than he was for his hammer throwing. The double Olympian had a PB of 70.16m when he was interviewed for 'Who's Who in British Athletics' (page 20), but he went on to throw 73.20m the following Olympic year which still ranks him 20th all-time in the UK. It should also be noted that he now coaches 27 athletes according to Power of 10 and these include Jake Norris and Bayley Campbell and he also had a successful masters career. The most interesting pages for most might well be the UK teenage age best performances all-time on centre pages 18-19. At the time the oldest marks (from 1958) belonged to 1960 Olympic sprint medallist Peter Radford (age 18 bests), who went on to head British Athletics. Dave Jenkins, the 1971 European 400m champion, had six marks from 100m to 400m but that was headed by future Olympic champion Steve Ovett in the middle distances. All his 800m marks have fallen to current star Max Burgin and Steve Cram took most of his 1500m and mile marks. Ovett's 1:47.3 (in the AAA final at 17) was a world age best at the time and his 1:45.8 age 18/19 gained him a European silver in the seniors. He was not at his very best in 1975 but did set a mile record. Ovett had actually lost some of his younger marks to Malcolm Edwards whose picture appeared in the rankings.
Matching Ovett's eight was Andy Barnett who was a sensation aged 12 to 15 and still holds some of those marks. He failed to fulfil his huge potential even as an older junior and never made his mark as a senior. Dave Black, who won a Commonwealth 10,000m medal in 1974, held a lot of the 3000m and 5000m marks and note future 10,000m world record-holder Dave Bedford's 28:24.4 which was a senior record at the time in 1969 and that is still the UK teenage record 51 years later. Now top coach Aston Moore stands out in the triple jump while two other Commonwealth champions Geoff Capes and Charles Clover impress with their respective marks at the shot and javelin. Daley Thompson effectively had four age records in the decathlon but was still to improve the age 18 and age 19 marks. AW subscribers can read the full nostalgia article in the [url=https://athleticsweekly.com/clubhouse/post/aw-45-years-ago/]AW Clubhouse here[/url].
»
 For more on the latest athletics news, athletics events coverage and athletics updates, check out the [url=https://athleticsweekly.com/]AW homepage[/url] and our social media channels on [url=https://twitter.com/AthleticsWeekly]Twitter[/url], [url=https://www.facebook.com/athleticsweekly/]Facebook[/url] and [url=https://www.instagram.com/athletics.weekly/]Instagram[/url] The post [url=https://athleticsweekly.com/athletics-news/nostalgia-aw-45-years-ago-1039936862/]Nostalgia: AW 45 years ago[/url] appeared first on [url=https://athleticsweekly.com]AW[/url].