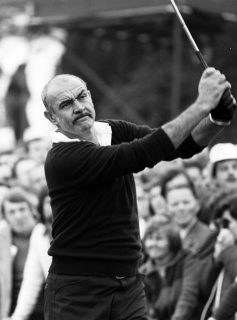 Connery only took up golf in his 30s for his part in Goldfinger, but was soon hooked. A regular on the Pro-Am circuit, he's pictured here taking part in the Bob Hope Classic at Moor Park Golf Club in 1982 (Photo by Peter Dazeley/Getty Images).
When you're as cool as Sean Connery you can be forgiven for wearing your jeans with turn ups – in fact he could have been forgiven just about anything in 1962, as the 32-year-old Scot had just been announced as the new James Bond, licensed to thrill the next generation of fans of Ian Fleming's novels turned into blockbuster films.
Despite outward appearances, Connery had never played golf in his life before the storyline in Goldfinger required him to look as if he knew one end of a putter from the other. Although having grown up a pitching wedge form Bruntsfield Links in Edinburgh, the young Bond-in-waiting had never been attracted to the glorious game, preferring instead to strut his stuff on the football pitch and in the gym (he had trials for East Fife FC and was third in the 1950 Mr Universe competition). But all that changed when he was required to carry off one of the most legendary golfing scenes in film history, where he plays and beats the evil Auric Goldfinger (acted by accomplished golfer Gert Frobe) in a compelling matchplay encounter at Stoke Park in Buckinghamshire. In the image above, Connery is pictured returning to his London flat (which was, somewhat ironically, a converted nunnery) after having had a golf lesson at the legendary Knightsbridge Golf School. The school still exists today and is responsible for many a celebrity golf swing, including that of Hugh Grant. During filming at Pinewood Studios and Stoke Park, Connery became completely hooked on golf and like many method actors before him, found that the game had taken a firm hold, and has been a central feature of his life until old age finally caught up with him. A few years after Goldfinger, Connery helped set up one of the first ever Pro-Ams in Scotland, which was held at Royal Troon the week after the Open Championship in 1964. Over 20,000 fans came to the first event, which saw the likes of Jimmy Tarbuck, Kenny Dalgleish, Henry Cooper and Eric Sykes tee it up over the famous links. Golf was also responsible for Connery's marriage to his second wife, French artist Micheline Roquebrune, who was his partner in the King of Morocco's Cup in 1970, a tournament that he won. They were married in Gibraltar five years later and the couple moved to the well-heeled resort of Puerto Banus in Spain, where they spent their time indulging in their shared love of golf when he was not filming. A longstanding member of the R&A, Connery was knighted in 2000, and soon after moved to the exclusive resort of Lyford Cay in the Bahamas for the last years of life, where he died on Saturday, October 31, aged 90, surrounded by his family. The post
SEAN CONNERY: 1930-2020
appeared first on
Golf News
.