Georgia Hall has committed to play in the five remaining events of the Rose Ladies Series, after finishing tied second in the third event – her first – which was held at The Buckinghamshire Golf Club on July 2.
The decision of the 2018 Women's British Open champion is another huge boost for the English mini circuit set up by Justin Rose in response to the country's top female pros facing the prospect of an inactive summer due to the pandemic. Hall said. "Initially, I wasn't sure going to play at all in the series and instead just practise hard for when the Tours resume. But I played in a pro-am in Worplesdon last week and I absolutely loved having a scorecard in my hand again. It had been more than four months and I didn't realise how much I'd missed competition. "Plus the first winners gave the series great exposure and I figure that as Justin and his wife have done so much to get this on, not only putting in their own money, but also attracting a couple of sponsors, I should turn up and I'll play in every one of them from now."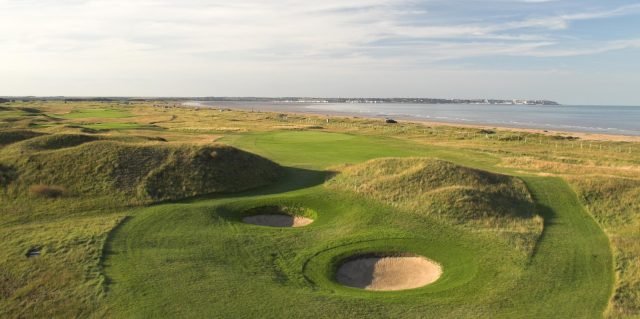 Hall will be teeing it up at next week's Rose Ladies Series event at Royal St George's in Kent This is great news for the behind-closed-doors series, that is resigned to losing Hall's Solheim Cup teammates Charley Hull and Bronte Law after next week's event at Royal St George's. Yet while Hull and Law will be travelling to the US to appear in the LPGA Tour's first two restart tournaments, Hall will remain at home. "I could have gone over to America, but I would have had to quarantine over there for two weeks and then after the Marathon Classic, come straight back for the Ladies Scottish Open that leads immediately into the British Open at Troon," Hall said. "So, I'd much prefer to keep fresh for that fortnight, because the British Open is obviously my favourite event. And the good thing with the Rose Series is that it can sharpen my competitive edge in the meantime. I'd love to win the Series's Order of Merit. The final round is at Wentworth and I'm an ambassador there." The Grand Finale was originally 36 holes, but to help best prepare the pros for the return of the tours, it has been extended to 54 holes from August 5-7, with a cut for the top 35 and ties at the end of day two. With The Berkshire Golf Club hosting the second round, North Hants Golf Club is stepping in to stage the opening day and as Rose's home course that will afford it added resonance. And with Computacenter putting up £40,000 for the tournament itself and with American Golf backing the Order of Merit, with the winner receiving £20,000, that makes it a significant pot. Hall added: "Playing for decent prize money makes it more tense and give us that feeling of playing for something that you just can't replicate that in practice. It's funny, I've really missed the girls – Charley, Bronte and I go way back – and it's been great to see them again. But we are all competitive and want to beat each other." The Covid-19 rules dictate that the players can only have a caddie if they come from the same household. Harry Tyrrell happens to be Hall's partner. "That is handy!" she said with a laugh. She also believes the training she put in through the lockdown will also be of assistance. "As well as doing a lot of painting around the house, I did much more fitness work than normal and I would say I'm stronger than I've ever been," she said. "I noticed with my irons last week that they are going five to seven yards further, and although that doesn't sound much, it is and it'll be good to be that bit longer.