Today, September 24th, marks 25 years to the day since Europe won a stunning 14.5-13.5 victory at the 1995 Ryder Cup at Oak Hill. Following the disappointments of Kiawah Island in 1991 and at The Belfry in 1993 – the last time Europe lost to America on home soil – Bernard Gallacher's team had a point to prove. And prove a point they most certainly did. 
In an exclusive interview with Golf Care, the UK's leading golf insurance company, 1995 European captain Bernard Gallacher and team member Sam Torrance talk about their memories of the 1995 tournament. 
Bernhard, what do you remember of the build-up to the 1995 Ryder Cup?
After 1993, I didn't want to be captain – that was a disappointing tournament in many ways. We got off to a good start, but then I lost Sam [Torrance] to injury early on, Bernard Langer hadn't played for six weeks coming into the tournament due to a neck injury, and Seve Ballesteros didn't want to play in the Saturday afternoon four-balls, which set off alarm bells. I was quite downcast after everything that happened.
But the players wanted me to be there as captain in 1995, which meant a lot, so I went over with them. I was under pressure from the press, but I expected that.
What was the mood in the camp like once you got to America?
Oak Hill was a course we all liked – it was a lot like Wentworth. It was autumn, so it was cool in the morning and warmed up during the day. The greens weren't too fast because they were a bit damp, which played into our hands.
After the previous two Ryder Cups, which were close, I really felt that this would be our time to hit the big shots at the last moments. As it turned out, the players did that, which swung it our way. The players were confident the whole week and it paid off for us.
What do you remember of the tournament itself?
We played ok over the first two days of foursomes and fourballs and were two points behind the USA going into the singles. We liked the singles draw when it came out because of the position of the players. Seve was struggling with his game, and I knew we were going to lose that match, so we had to find a position for him which didn't endanger the rest of the team. That's why he went off first. The players went out and did their job, and the rest is history.
Was there any one moment when you started to believe it would go Europe's way?
When the players had all gone off on the Sunday, I went into the clubhouse to the team locker room. I sat with John Jacobs and we watched it on television because I knew nothing was going to happen for the first couple of hours. I couldn't be at every match and I could see more from where I was. At one point, I turned to John and said 'We're up in every match!'. From number 2 down to number 12, we were really going for it.
Ben Crenshaw was the Masters champion at the time and Colin Montgomerie beat him. Loren Roberts was a formidable opponent and Sam Torrance beat him. Nick Faldo beat Curtis Strange. These were guys in the middle of the field, which boded well for us.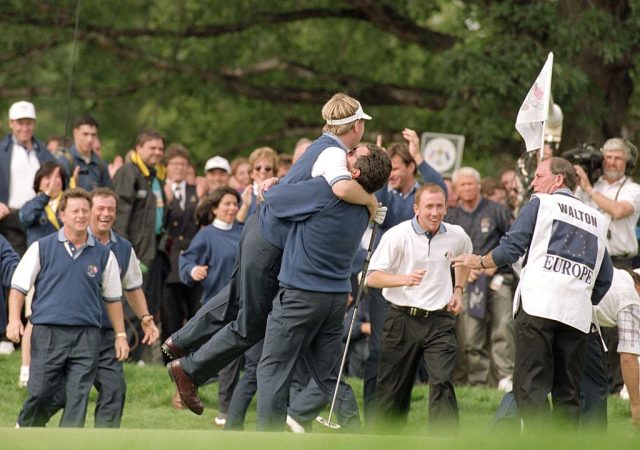 Bernard Gallacher lifts Phillip Walton off the ground in celebration after clinching the decisive victory in the singles of the Ryder Cup to give the Europeans a 14.5 to 13.5 victory. (Stephen Munday /Allsport)
You mentioned the singles draw earlier. Can you talk to us a bit more about that?
When the draw came out the night before, we all liked it. The only person who was tentative was Per-Ulrik Johansson, because I asked him to play 12th.
He said he didn't think it was fair putting a rookie out on 12th, but I thought back to when I was a rookie. I said to Per-Ulrik 'What have you got to lose at number 12?' If it comes down to your match to decide the outcome of the Ryder Cup, everyone's expecting you to lose anyway!
I said to him 'The way I've figured it out, we'll win the Ryder Cup before your match.' I liked the draw so much that, even though we were two points behind, I felt we had a great chance. From number 2 right down to number 10, I liked the opposition and thought we would win every match.
For all of Per-Ulrik's apprehension, he was up against Phil Mickelson and he said if there was one guy he wanted to play it was Mickelson. They're the same age and had played against each other at college level, so he knew him well. As it turned out, he went to bed quite happy!
Someone who will have gone to bed quite happy on the Sunday night was Philip Walton. Talk us through your memories of his match against Jay Haas?
Philip missed a putt on the 17th to beat Jay, which would have finished the Ryder Cup there and then. It's like the golfing gods were saying 'We don't want Philip Walton to win on the 17th, we want him to win on the 18th.' More people were there and it's in front of the clubhouse – it's as if someone up above wanted that to happen!
The 18th at Oak Hill is a tough fairway to hit. Jay hit it in the left-hand rough, Philip hit it in the right semi-rough – it wasn't a great lie, but he could reach the green from there. He hit it in the right place. Then after his next shot he was just off the green, but we could hardly find the ball. It was so thick around the greens. For two minutes, we were frantically trying to find Philip's ball!
When it came to the putt, I could see he was nervous. Who wouldn't be under the circumstances? There's not much you can do as a captain in that situation – you don't want to get too close to him, you just want him to concentrate. But I knew a five was going to be enough to win the Ryder Cup because the 18th was such a tough hole. There wasn't one birdie in that hole the entire day.
When Philip hits his putt, Jay looked round and could see I was walking up there and that was that, he concedes the hole and we've won. I ran over to Philip and tried to carry him off the green, but I quickly gave that up!
You got a lot of credit for the player's positions. What was your thought process?

Suddenly I was a genius! I had to put a lot of thought into where the players would play but my hand was forced to an extent, because we were two points behind. I wasn't thinking about the players at the back of the draw because we needed to get back into the Ryder Cup as soon as possible.
Apart from Seve, I knew I had to play my main guys up front or in the middle to get us back into the game. I'm playing the rookies at 11 and 12 and looking for them to hang on in the worst-case scenario, but I'm looking to win the Ryder Cup before their matches.
We've got to win a lot of matches to do that, so it was a no-brainer putting the likes of Faldo, Montgomerie, Torrance and Langer in the middle.
Howard Clark and Mark James were tough matchplay competitors, which is why I put them in at 2 and 3. They knew their responsibilities because after Seve lost the first match, if they'd have both lost we'd have been five points behind. I can't speak highly enough of the importance of their victories and the strength of character they showed.
Turning to you Sam,
you'd been in the Europe teams which had lost the two previous Ryder Cups in 1991 and 1993. The press wasn't giving you much of a chance going into this tournament. What was the mood like within the camp among the players and how much of a chance did you give yourselves?  

Sam Torrance:
We were very unlucky to lose in such dramatic circumstances at Kiawah Island in 1991 and, from a personal point of view, 1993 was my biggest disappointment. I had a toenail removed after the first day and couldn't play for the rest of the tournament.
I really wanted to play well for Bernard, who was a fantastic captain and someone we all wanted to be captain in 1995. That's why 1991 was tough to take, but 1993 even more so, especially from my perspective.
So, going into 1995, we were desperate to win it for Bernard, which was a great motivation to take with us. When we got to America, we always felt we had a chance. Europe had won at Muirfield in 1987, which was our biggest victory to date, so we knew we were capable of it.
What are your overall memories of the week?
On the Saturday, we won the morning foursomes 3-1, but lost the afternoon four-ball 3-1 to go two points behind going into the singles. We'd never beaten America in the singles on Sunday. But the mood on the Saturday night wasn't sombre, we were all ready for the challenge, because we'd done it before.
The Sunday started with Seve and he was gone, the poor chap. We knew that his game was gone. We were all standing there watching this genius play the most remarkable shots through the course of the front nine to just hang on to Lehman's coattails. It gave the team such a boost to see him fight on like that.
When you're struggling in the Ryder Cup, you know how hard it is to do anything when your game isn't there, but Seve just inspired us all. That gave us the momentum to go on and win tournament.
We've got to talk about the doubles match that you and Constantino Rocca played against Jay Haas and Fred Couples. What are your memories of that match?
Constantino and I were great friends and we gelled beautifully. I'll always remember that hole-in-one at the 6th – I've still got bruises from the bear hug he gave me, he squeezed me that bloody hard!
He was a great partner. When we beat Haas and Couples, everything went to plan for us. They were great players – Couples had won the Masters only a few years previously and Haas achieved top-five finishes at two Majors that year. But Constantino and I had such a good understanding of each other's game and that was key to our victory.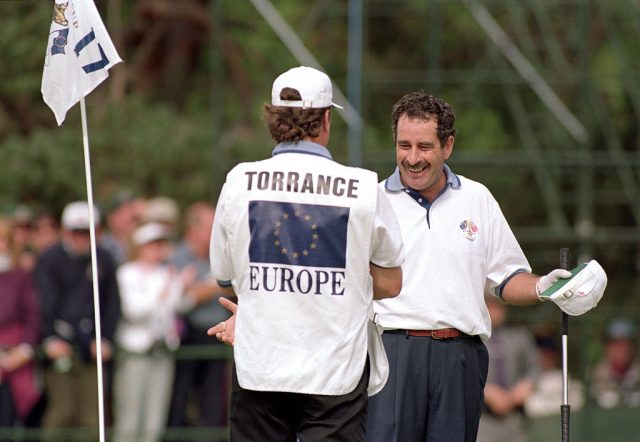 Sam Torrance celebrates with his caddie on the 17th green after victory in his final day singles match against Loren Roberts (Stephen Munday /Allsport)
What do you remember of your Sunday singles match against Loren Roberts?
I can't remember which hole it was, but we both hit our second shots into a hazard short of the green.  He dropped it out about 60 to 70 yards short and I went back another 20 yards for my shot, which I preferred. Then the referee comes over and says 'Sam, it's not your shot', which is a rule I had no idea about.
I dropped it 20 yards further away from the hole, thinking it's my shot. But the shot order was decided by whose ball was furthest away in the hazard before you take the drop, which I never knew. So, Loren Roberts went first from 20 yards nearer to me and he bloody holed it!
It was a very close match, but I was always confident I would win. I played some of the best golf of my career at the 1995 Ryder Cup. After 1993, I really wanted that.
I remember being 1up at the 16th and hitting a good tee shot – Roberts hit his shot in the second cut on the left. He was about to take his next shot and I walked across maybe 70 yards to the fence where my wife Suzanne was standing, and I whispered in her ear: "Watch this". I then landed my approach shot inside of 10 feet and holed my next shot for birdie to go 2up with two to play.
To do something like that was extraordinary, but it was how I felt. I was very much in the moment and it's not often in my career that I'd felt like that. Thank God it came off! Can you imagine if I'd hit it in the bunker?
We also need to talk about Philip Walton's match against Jay Haas. What do you recall of the match and what else was happening as it was going on?
Philip was 3up at the 16th and looked to be cruising. Haas then hit a bunker shot which hit the flag, dropped straight into the hole and cut Philip's lead down to two. It was such a cruel blow to take.
Philip then missed the green at the 17th and ending up missing a 5-foot putt for par. Haas wins the 17th and it went down to the last.
Just before that, Nick Faldo was 1down to Curtis Strange, but Curtis bogeyed 17 and 18 and Nick made a fantastic putt at the 18th to win the match and take us to within a point of the Ryder Cup. What a putt that was!
Philip's then at the par-4 18th and he's hit the tee shot into the right semi-rough. As he walked past me, I gave him a smack on the arse and reminded him that he was still 1up. He didn't have a very good lie, but he almost made the green in two, hoisting a 5-wood into the bank short of the putting surface. He then hits this brilliant chip from the bank – he cleared the rough by about three inches going up the hill. It was a beautiful shot.
Five was going to be goo enough to win the Ryder Cup, because Haas wasn't going to make par. Philip then hits the putt to within a foot, Haas concedes the bogey and Bernard runs onto the green. He jumps up into Philip's arms and says: "You've just won the Ryder Cup!" and Philip says: "Have I?" It was such a special moment.
Looking back now, and knowing that it was my last Ryder Cup, I'm delighted I played as well as I did and that we won it for Bernard. The post
THE 1995 Ryder Cup remembered
appeared first on
Golf News
.